Propane-fueled vehicles are easier to maintain and last longer than gasoline and diesel-fueled vehicles. The cost savings is significant for city governments, and with the $4,000 rebate available from the Michigan Propane Gas Association, new propane vehicles or conversions are made all the easier.
"We went with propane due to the expense reduction with preventative maintenance. Diesel is dirty. Propane is clean and propane vehicles are much easier to maintain."

Josh Reid, Director of Transportation, Gladwin City County Transit, Gladwin, MI
FUEL:
The cost of wholesale propane falls between the price of oil and natural gas, the fuel's two sources. As a result, propane is consistently less expensive than diesel, even as fuel prices fluctuate.
FLUIDS:
New, lower-emissions diesel technology comes with an added inconvenience: diesel emissions fluid to purchase, store, and change. This is on top of needing more oil by volume compared with propane autogas. In cold temperatures, diesel vehicles also require anti-gels to prevent clogging of fuel filters and lines. Propane autogas provides reliable performance without additional fluids.
FILTERS:
To meet emissions requirements, new diesel technology requires diesel particulate filters that must be cleaned. Excessive idling will accelerate cleaning intervals. Either way, extra maintenance expenses are piled on top of additional upfront costs.
"The clean burning propane helps with the efficiency of the combustion chamber. We put a lot of hard miles on them. Propane helps us with the longevity of the vehicles."

Chris Lake, Chief Mechanic, Eaton County Transit Authority, Charlotte, MI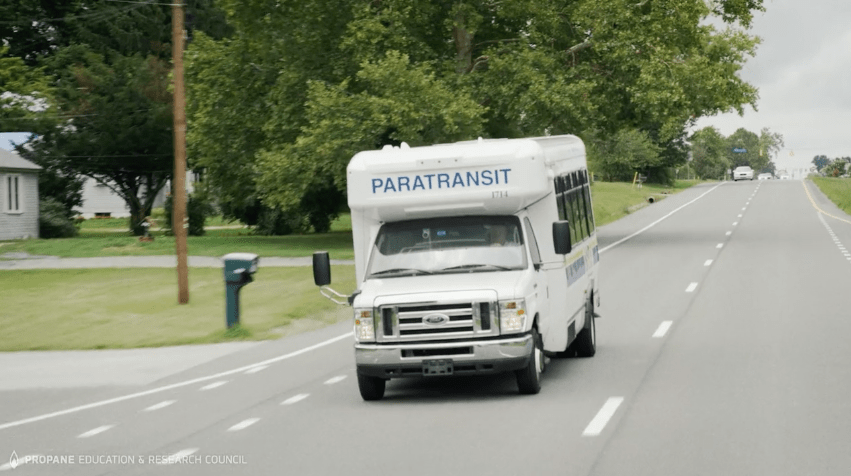 Getting a $4,000 rebate to convert your vehicle to propane is easy through the Michigan Propane Gas Association.